【Expatriate staff column】Malaysia

Selamat pagi!! Good morning!
Do you know where Malaysia is?
You might know Republic of Singapore and Thailand close to Malaysia, but you might not know where Malaysia is. Malaysia, which has population of 32 million, is located in the center of Southeast Asia close to the equator, and consisted of West Malaysia in Malay Peninsula and East Malaysia in the north part of Borneo.
Actually, Malaysia has got the first place of "a desired long stay country・community survey" conducted by the Long Stay Foundation which is a general incorporated foundation, and has got attention for 14 years.
Overview of Malaysia
Since Malaysia is a multi-ethnic country consisted mainly of three major ethnic groups such as Malay (69%), Chinese (23%), and Indian (7%), it has six remarkable characteristics. ①coexistence of a wide variety of cultures and religions; ②High-quality human resources who can respond to the multilingual environment; ③stable economy and security; ④well-developed infrastructures; ⑤few natural disasters such as earthquakes and typhoons; ⑥warm climate throughout the year; Therefore, I think Malaysia has a high quality business environment and living environment which cannot be seen in the world. The great diversity environment, especially English skills of Malaysian, is the top in Southeast Asia and there are Chinese human resources who can speak Chinese, so such high language skills could be a strong advantage in the recent global society. Actually, I hear that after the trading war between the U.S. and China, many companies have chosen Malaysia as a candidate of transfer destination of production bases. And this is only my personal view, Malaysia not only could be economic and industrial hub in Southeast Asia instead of Singapore where costs have raised, but also has potential to develop as a communication hub which breaks language barriers between countries.
The photo below is so-called Harmony Street in Malacca city, Malacca, in the southern part of the Malay Peninsula where Islamic, Buddhist, and Hindu temples are lined up. This is a place which symbolizes the coexistence and harmony of multiple ethnic groups, and this beautiful street is registered as a World cultural heritage site.

Main Regions and the Characteristics
Malaysia totally has 13 states and 3 federal territories, including 11 states of the Malay Peninsula, the capital Kuala Lumpur, West Malaysia which consists of two federal territories of the administrative city Putrajaya, and East Malaysia which consists of two states of Borneo and Labuan. About 80% of the total population concentrates in West Malaysia, and because there is the capital Kuala Lumpur, it has developed as the center of Politics and Economics. East Malaysia has lots of nature and natural resources such as oil and gas, but it has a small population and Japanese companies do not tend to advance the region except for some industry types such as resource industries. If we divide Japanese companies into manufacturing companies and non- manufacturing companies, manufacturing companies have advanced into Selangor, Penang, and Johor, and non-manufacturing companies tend to advance into Kuala Lumpur, and Selangor. We are located in Selangor, the center of West Malaysia, which is a place where customers can access easily.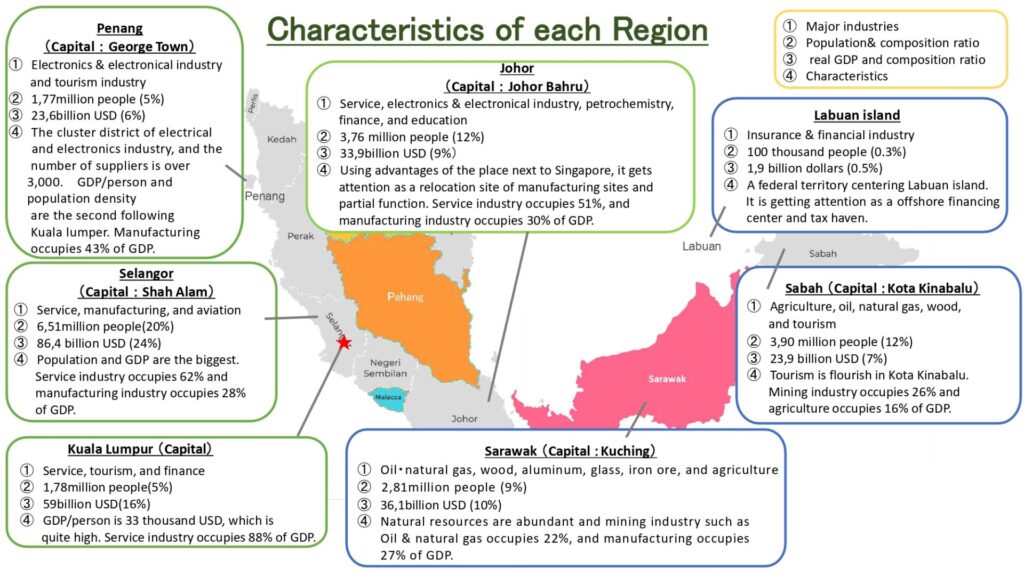 Attractive Consumption Market
Recently, Malaysia has continued to grow about 5% of real GDP growth rate. The ratio of the middle-income class and the high-income class has got higher because of the development of Malaysia, so individual consumer's purchasing power has also improved. As a result, now it is getting much attention from other countries as an expected medium-term business development country. In fact, Japanese companies also highly evaluate this excellent business environment and living environment. The manufacturing industry has mainly entered Malaysian market, but with the alleviation of Bumiputera policy which gives preferential treatment to Malays, and the improvement of personal purchasing power due to economic growth, the non-manufacturing industry such as wholesale and service businesses has also entered the market rapidly. It is the halal business which has especially grown and become the center of the national strategy. Malaysia has a halal hub policy and aims to become the center of halal business in the world with the initiative of the government. Malaysia's halal certification is managed by a government agency, so the rules are clear and it is preferred by Japanese companies. It can be thought that Malaysian markets as a gateway to the Islamic world with the population of 1.8 billion, aiming business development in Asia, the middle-east, and African market. In addition, Malaysia is actively proceeding a bilateral free trade agreement (FTA), so it can be expected expansion of further expanding imports and exports, and effects of expanding the consumer market.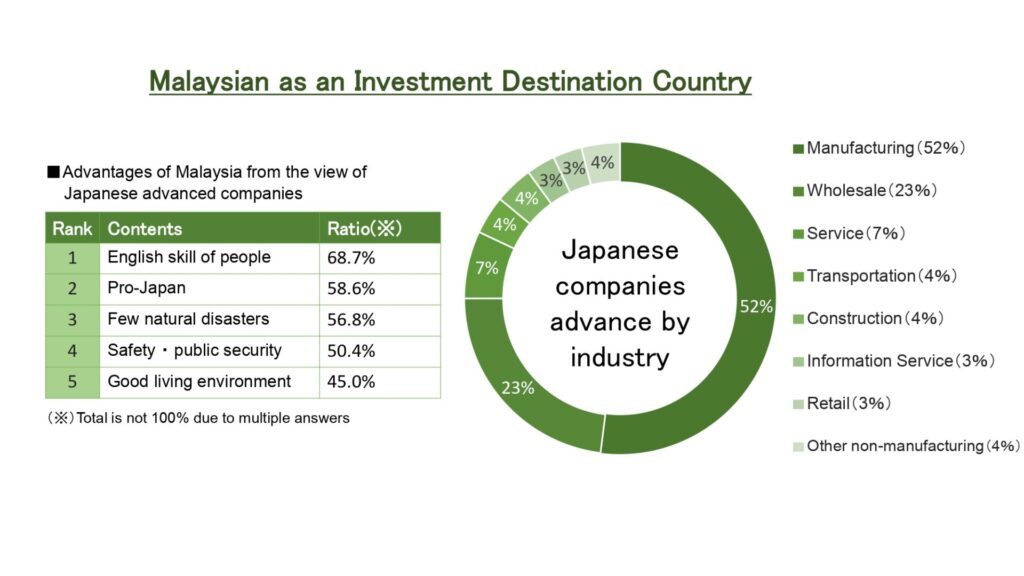 Byokane (Malaysia) Sdn. Bhd.
As a specialized trading company that handles a wide variety of metal processed parts including fastener parts, we have supported manufacturing for many years, centered on vehicle-related, home appliances, and OA-related companies.
With the Look East policy advocated by former Prime Minister Mahathir Mohamad in 1981 and a high yen after the Plaza Accord in 1985, the rush of Japanese companies to enter the market has continued, and we opened a representative office in Kuala Lumpur, the capital of Malaysia in 1990. In the same year, we established a representative office on Penang Island which is called the pearl of the Orient, and it has developed. In 2012, we established a local subsidiary company to further enhance our services to our customers and achieve further growth and development.

Aiming 120% of Customer Satisfaction
Needless to say, low price and high quality are important, but it is also important to have customers' viewpoints because it helps make us offer better values to customers. As a result, we would make it possible to have customer dealing and product suggestion which would lead higher customer satisfaction. Here, we introduce one example of the matter which got a good evaluation from our customer.
Recently, automation has been accelerated in customers' manufacturing sites, and production of our main products, screws, has also changed to be automatic. A common problem of screw automatic machine fastening is a "small-scale stop". The main causes of small-scale stop are "fastening failure" caused by insufficient torque, misalignment of screws and screw holes during tightening, "diagonal fastening" caused by screw recess and fitting performance of an electric screwdriver, and so on. The cause of "small-scale stop" is clear to some extent as mentioned above, so the time from the occurrence of the trouble to the recovery is only a few minutes, and the recovery work doesn't become tangible clearly because it is carried out by workers as a daily work. However, it takes only a few minutes a day, but what about a monthly or yearly term? As people say "any a little makes a mickle", it would be a considerable loss time. In fact, costs hard to find has been incurred. Furthermore, it has the potential to cause a "big-scale stop" which directly leads to the suspension of product shipments and serious equipment failures.
In response to this, we proposed a recess for automatic machine fastening, which is one of our products for automatic machine fastening. Conventionally, general cross-hole recesses and torque recesses have a large amount of rattling between the tip of the electric screwdriver and the recess, so they are not stable and tend to wobble during the tightening process, which induces misalignment, diagonal tightening, and etc. We have solved customers' problems and issues with epoch-making screws which have solved such disadvantages. In fact, Malaysian customers also have the problem of "small-scale stop" due to screw dropping during tightening, but it was solved by adopting our screws, which led to improvement in customer satisfaction. This is just an example, but our sales share of metal processed parts to Malaysian customers is at a high level through such customer support and product proposal activities that we have carried out from the customer's perspective. Therefore we could have led to sales and business expansion.
We will continue to challenge to achieve 120% customer satisfaction!
In addition to the screws for automatic machine fastening mentioned above, we cooperate with manufacturers and can also meet customers' needs with 4-piece set of design and production for automatic equipment, automatic screwdrivers, bits for automatic screwdrivers, and screws for automatic machine fastening. Please contact Byokane (Malaysia) Sdn. Bhd. if you need automatic machine fastening screws, and have any requests for standard products, special products, etc.,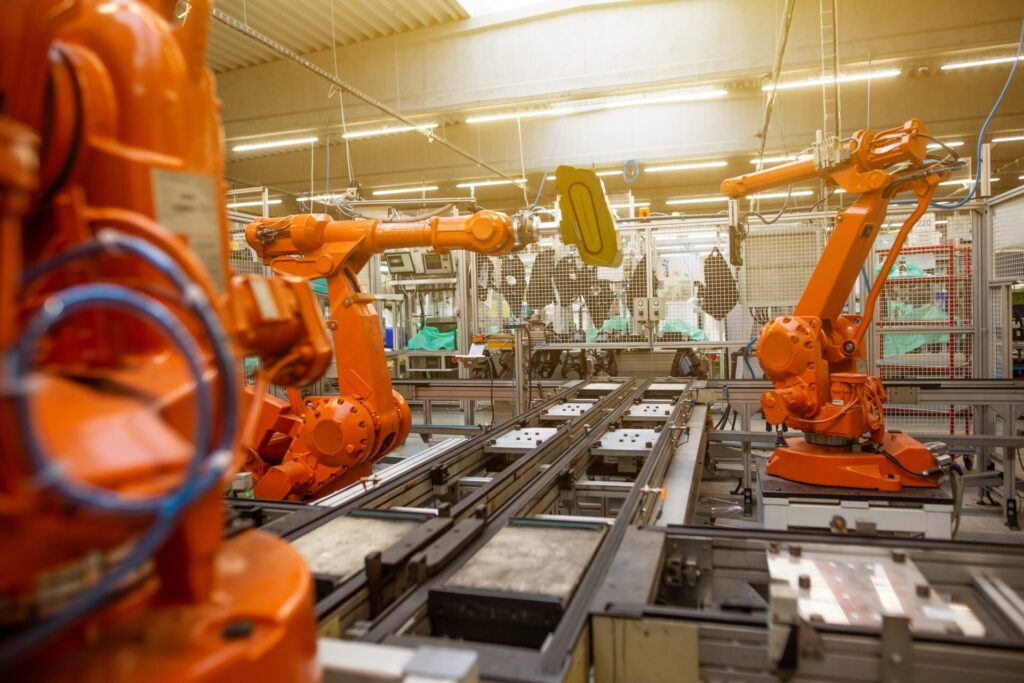 Company Information
Name                : Byokane (Malaysia) Sdn. Bhd.
Address             : Suite L17-08, Level 17, PJX-HM Shah Tower, Persiaran Barat,
                           46050 Petaling Jaya, Selangor, Malaysia.
Establishment    : August 1st, 2012
IOS certification : ISO9001:2015 / ISO14001:2015
<Contact>
Please contact us if you have any comments, suggestions, and questions.
We use a web meeting system "Microsoft Teams" as a business talk tool if you have difficulties to meet directly.
Tell         : +60-3-7931-9292